Age: 14
Birthday: December, 25th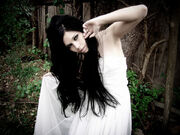 She grew up in District 2 with her parents Gale Hawthorne and Mallory Hawthorne, and her older brother Johny. Her father always takes them to District 12 for three months each year to see his friends.
Fanfiction
Edit
In the fanfiction she is a supporting character.
Relationships
Edit
Johny Hawthorne
Edit
They are siblings seperated by two years and they usually don't get along very well.
Michael Mellark
Edit
They are best friends although she wishes they could be more. She is so in love with him, whenever she is back at home she doodles his name in her notebooks at school.